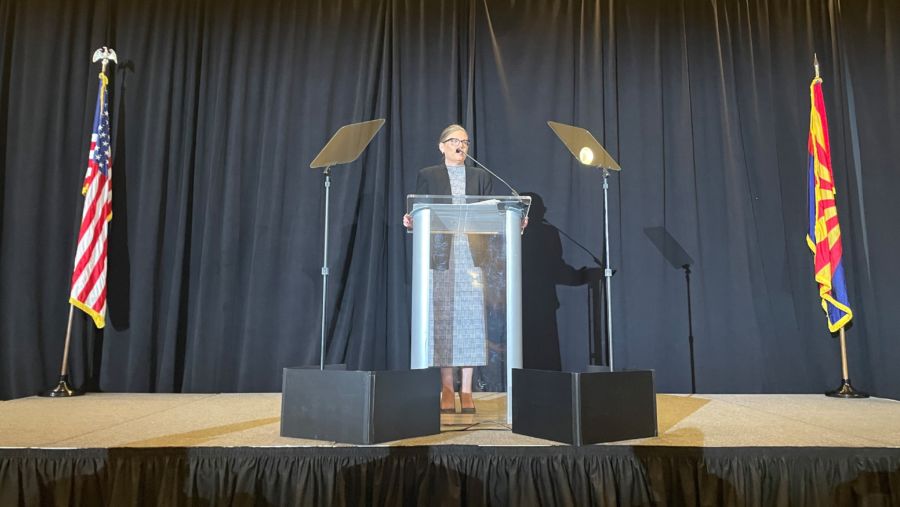 Governor Katie Hobbs gave her State of the State address at the 21st Annual East Valley Breakfast with the Governor, an event presented in partnership between the East Valley Chambers of Commerce Alliance and PHX East Valley Partnership. The speech ran just short of one hour and focused on five major policy areas. These areas and other policies shared in the speech will be further clarified when the Governor releases her Executive Budget.
Governor Hobbs touted the following in her speech:
Infrastructure
Support for rural infrastructure including broadband.
K-12 Education
Support for the education expenditure cap also known as the Aggregate Expenditure Limit by March 1.
Concern for expansion of the Empowerment Scholarship Account.
Any taxpayer funded school should be held to the same standards as public schools and be subject to an auditor general report.
Creation of an Educator Retention Task Force.
Higher Education
Support for additional funding of community colleges and dual enrollment programs.
An appropriation of $40 million for dreamers attending Arizona universities.
Housing and Homelessness
An appropriation of $150 million to the Housing Trust Fund.
Creation of a Council on Homelessness and Housing.
An appropriation of $50 million for a child tax credit.
Water
Expansion of the Groundwater Management Act.
Transparency about areas facing water shortages.
Establishment of the Governor's Office of Resiliency (land and water use).
Establishment of the Governor's Water Policy Council.
Allocation of additional funding for rural communities to create Active Management Areas.
Miscellaneous
Protection of Arizona's watersheds from fire and drought.
Funding of women's services.
Support for economic development and the success businesses.