Events at the Gilbert Chamber are designed to benefit a variety of business professionals. From informal networking opportunities to award banquets, our events are intended to bring together unique and engaging individuals who are invested in the success of Gilbert's business community.
View Event Calendar
---
Regular Events
Chamber Accelerator - Put Your Membership on the Fast Track to Success
At this comprehensive membership orientation, you will learn how to maximize the benefits of your Chamber investment. You can expect to gain a strong understanding of our programs and services, ask questions of our staff, and develop your action plan for Chamber engagement and success.

Chamber Connections
These casual gatherings offer a great opportunity to socialize with familiar faces and build new relationships in a relaxed setting. Plan to exchange referrals, share resources, and showcase your expertise.

Connections in Focus
Get connected with other local businesses serving your same clientele at our Connections in Focus events. We'll connect Chamber members in the hospitality industry with those in service industries - entertainment, sports, spas, salons, retail, real estate, and restaurants - creating opportunities to grow your business and create strong partnerships.


Nine & Networking
Gilbert Chamber Networking that includes nine holes of golf w/cart and a beverage. This golf gathering is a fun way to share conversations with other professionals while learning more about businesses and services within our community. Come prepared to meet new friends and build lasting relationships!


Good Government Events
Good Government Events bring together elected officials and local leaders with members of the business community for a discussion on the latest governmental issues. Through conversation and questions, feedback is shared in both directions to contribute to a vibrant business community. Held throughout the year, guests typically include Maricopa County Supervisors, Gilbert Public Schools and Higley Unified School District Board Members, District 13 and 14 Legislators, federal Congressional and Senate members, and Town Council members.
Tri-City Economic Update
Presented in partnership with the Chandler, Gilbert, and Queen Creek Chambers of Commerce, this event features a regional and local update focused on major projects and key areas of focus.
Guiding Growth Podcast Series
So often, we define ourselves and others by a title or label. But, who is the person behind the success? Leaders are inspiring, memorable, and often a mystery to those whom they inspire.
Join our hosts, Sarah Watts and Ben Kalkman, as we explore the human journey of leaders - their stories of humility, triumph, roadblocks, and lessons learned - as they reflect on how they became who they are today and share stories of inspiration and hope with listeners.
We'll take away the title, just for a moment, and enjoy a connection with the soul.
Listen to Podcasts
Ribbon Cutting Ceremonies
It's an honor to celebrate the grand opening of a new business or the reopening or milestone anniversary of an existing business. We encourage our members and the community to attend these events to learn more about the products and services offered and to show a warm welcome to the business owners and their teams. These ceremonies are often attended by the mayor and members of the Gilbert Town Council, Gilbert Fire & Rescue, and Gilbert Chamber Board members and ambassadors. Ribbon cuttings are available in-person and VIRTUALLY viaFACEBOOK LIVE.


Women Empowered (WE) Series
The events of this series are organized by the Women Empowered Committee and bring together businesswomen throughout the year at events including socials, a book club, a professional development luncheon, and a philanthropic luncheon honoring women.
Annual Events
Annual Business Awards Luncheon
Recognizes businesses and individuals for outstanding growth, superior customer service and success; includes recognition of the Businessman and Businesswoman of the Year as well as the Chamber's Year in Review.
Submit a Nomination

Gilbert Community Excellence Awards
This formal evening is filled with celebration as attendees honor excellence in Gilbert by recognizing educators, businesses, volunteers, public officers, and businesses in a formal, evening event. A partnership between the Gilbert Chamber of Commerce, Gilbert Public Schools, Higley Unified School District, Chandler-Gilbert Community College, the Town of Gilbert and Independent Newsmedia. The evening is truly a community event and features the Taste of Gilbert culinary showcase, featuring samples of the best cuisine or specialties offered by Chamber-member restaurants and caterers.
Submit a Nomination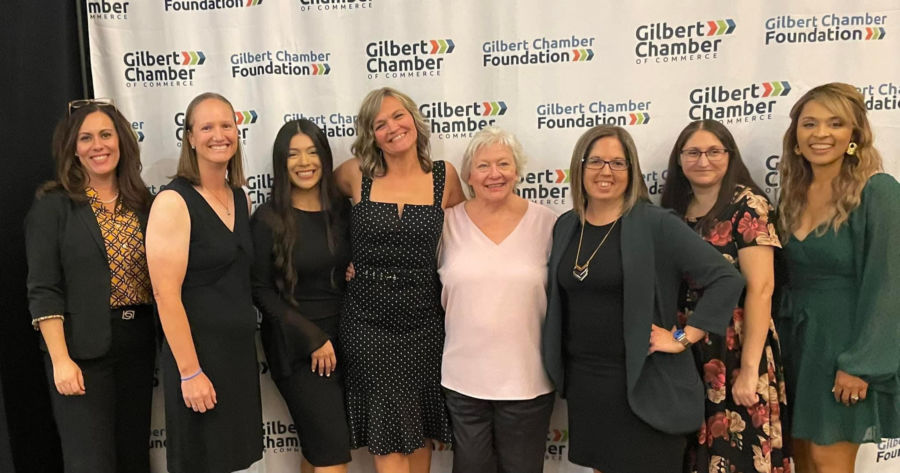 Bowling For Good Fundraising Event
This annual fundraiser includes a team bowling competition, best-dressed contest, and silent auction in support of the programs and services provided by the Gilbert Chamber. Bring your colleagues, customers, and friends for a fun evening of bowling and networking.


Women Empowered Leadership Expo
A one-day expo which brings together women business professionals for a day of connection and learning in a positive environment with a focus on supporting women in business. Event includes onsite speakers, vendors, and networking.

---
Help us provide a great experience! Tell us your areas of interest.