At the Gilbert Chamber of Commerce, we believe advocacy is our business! We work to influence government as a champion for our business community by maintaining a regular dialogue with our town leaders and elected officials at the local, county, state, and federal levels. It is important that we work together to solve the challenges that business leaders encounter.
---
East Valley Chambers of Commerce Alliance (EVCCA)

The EVCCA, founded in 1998, represents more than 5,000 businesses and local chambers - Apache Junction, Care Free, Cave Creek, Gilbert, Mesa, Queen Creek, Scottsdale, and Tempe. Business leaders representing each association meet monthly to provide coordination in the advancement of common business interests.
Each year, the EVCCA produces a legislative agenda listing priority business interests and a report on the legislative session, which lists bills that have the most significance to East Valley businesses and includes a report of how legislator voted on legislation relevant to the EVCCA.
Learn More
---
Endorsements and Position Statements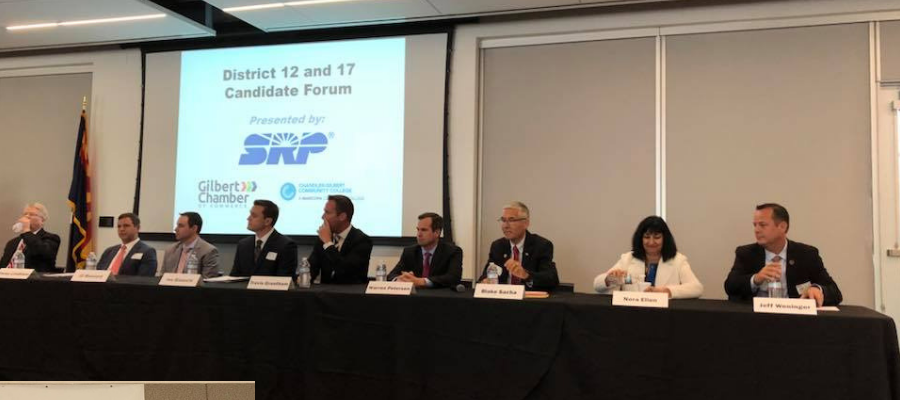 The Gilbert Chamber works on behalf of its members to endorse candidates and take positions on those issues that best represent the interests of the local business community.
Candidate endorsements are based on a candidate's voting record on the Chamber's local and state priority bills (if incumbents), past and current community leadership and engagement, experience with the management of complex budgets, ability to represent the community in a professional manner, understanding and support of a pro-business environment, as well as the willingness to work with the Gilbert Chamber on the policies and issues having a significant impact on Gilbert's business environment.
Likewise, the Gilbert Chamber is able to take a strong stand on the positions that matter most to Gilbert and the East Valley.
Learn More
---
Good Government Events

Good Government Events bring together elected officials and local leaders with members of the business community for a discussion on the latest governmental issues. Through conversation and questions, feedback is shared in both directions to contribute to a vibrant business community. Held throughout the year, guests typically include Maricopa County Supervisors, Gilbert Public Schools and Higley Unified School District Board Members, District 13 and 14 Legislators, U.S. Congressional and Senate officials, and Town Council members.

Help us provide a great experience! Tell us your areas of interest.