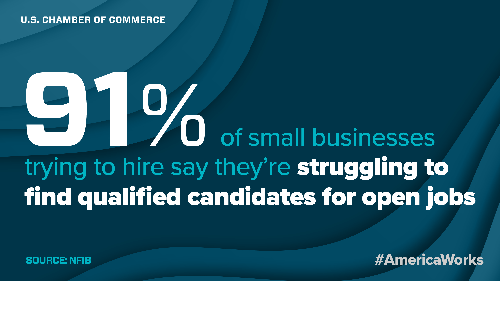 This week, the U.S. Chamber of Commerce launched America Works—a new nationwide initiative mobilizing industry and government to swiftly address America's deepening worker shortage crisis. The U.S. Chamber's new report—titled The America Works Report: Quantifying the Nation's Workforce Crisis—examines the current state of the American workforce and the monumental challenges employers are facing across the country with analysis of more than two decades worth of federal jobs and employment data and findings from surveys of top industry association economists and local and state chamber of commerce leaders across the country. Among other insights, the report finds that:
There were 8.1 million vacant job openings in the United States—a record high—in March 2021, the latest month for which data is available.
There are approximately half as many available workers for every open job (1.4 available workers/opening) across the country as there have been on average over the past 20 years (2.8 historical average)—and the ratio continues to fall.
More than 90 percent of state and local chambers of commerce say worker shortages are holding back their economies, and more than 90 percent of industry association economists say employers in their sectors are struggling to find qualified workers for open jobs.
Click here to view the full report.
To learn more about the America Works initiative and ways to get involved, visit uschamber.com/america-works