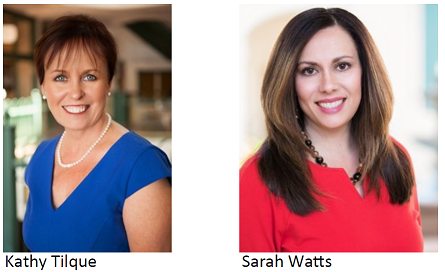 Today, we recognize the retirement of our President and CEO, Kathy Tilque, and share a message from her successor, Sarah Watts...


A message from Kathy Tilque: What a bittersweet moment for me as I write my final letter as President/CEO of the Gilbert Chamber. It has been such an honor to serve with you these past 24-years as we developed an amazing community and Chamber, one that values the importance of all businesses, owners, employees, and the jobs they create. I've enjoyed my advocacy role on behalf of our members and will miss the interaction with all of you. We've come through many highs and lows together and these last few months have pushed us all to the limits as we learned to adjust and keep our doors open. I know firsthand the worry, stress, and fear of the uncertainty you have faced. I'm so proud of our Chamber staff as we have worked day and night to bring you the latest information and options to help your business. During these critical times, it may have felt like we were doing something new at the Chamber, when in fact, we do this type of advocacy and sharing of resources every day. What we did find out is, perhaps, we aren't sharing that information with you as often as we should. To that end, you can count on that changing as we re-open our programs and services in new ways. Stay tuned – lots happening at the Gilbert Chamber to support you! As I close out my tenure at the Gilbert Chamber, it gives me the greatest pleasure to introduce Sarah Watts as the new President/CEO. Sarah is an amazing leader and has been with the Gilbert Chamber since 2008. I know you will enjoy working with her. I hope we can stay in touch and that I will have the honor to continue my advocacy on behalf of the business community as the newest member of the Town Council. I wish you all a safe, healthy, and prosperous year.

Sincerely,

Kathy Tilque
kathytilque@gmail.com

A message from Sarah Watts: I have been on staff at the Gilbert Chamber since 2008 and have cherished the opportunity to build relationships with and observe the successes of so many members. These past few months, I have been fueled by the desire to provide as many resources and as much support as possible as we navigate our way through these times. To our membership, this is your Chamber. We will continue to listen with thought and lead with character. Our Board and team members will walk alongside you to provide opportunities for connection, growth, and community involvement. We are here to serve. As I accept this position, I do not take lightly the role of our organization within the community and our ability to be part of a movement for change on many different fronts. To our Board of Directors, I would like to thank you for believing in me. Many of you have served as a mentor or provided encouragement over the years. You have invested your time and talents to guide the Chamber and I am so grateful for your contributions. I look forward to working with each of you. And, to Kathy, there really are no words to express the gratitude I have for your leadership of the Gilbert Chamber. You have been wholeheartedly dedicated to the membership and to this community for more than two decades. It has been my privilege to watch you in action, to observe your response to challenges and successes over the years, and to know that your leadership is always genuine, always thoughtful, and always in service to others. Now is a unique time of growth and change. We are rapidly evolving and introducing new, modern programming of value to a new way of living. I am grateful for a talented and dedicate staff who each invested in this community and this organization. This team – Annette, Lisa, Angela, and Jessica – is exceptional and continue to show their commitment to our core values. In everything we do, we will remain true to our mission. While we may have foot planted in the present, the other is squarely in the future – and our future is bright!

Sincerely,

Sarah Watts
sarah@gilbertchamber.com