Via Curtis Dubay, Chief Economist, U.S. Chamber of Commerce
The economy added 253,000 jobs in April, another strong report for job creation. Expectations were for 180,000, so we exceeded them again. We added 165,000 in March, so this was an increase, but job gains in February and March were revised down by a combined 149,000.
Why it matters: The hot labor market is a signal that the Fed's anti-inflationary policies are not working well enough. But there are signs the market is slowing, particularly the February and March revisions.
This means the Fed will likely stick to its plan to pause interest rate hikes to give it more time to see the impact of the moves it has made.
Be smart: Even with the strong job numbers the labor force contracted by 43,000. Still, we are now 2.2 million workers above the pre-pandemic participation level.
But, if we had the same participation rate now as in February 2020, there would be almost 2 million more workers in the labor force. Employers continue facing a worker shortage crisis.
By the numbers:
Wages rose 0.5% from March, and 4.4% annually from April 2022.
Education and Health added 77,000 jobs; Professional and Business Services 43,000; Leisure and Hospitality 31,000; Government 23,000; Construction 15,000; Manufacturing 11,000; Transportation and Warehousing 11,000; Mining and Logging 7,000; Wholesale and Retail Trade 5,500; Other Services 1,000; Information 1,000; and Utilities 1,000.
No industries lost jobs in April.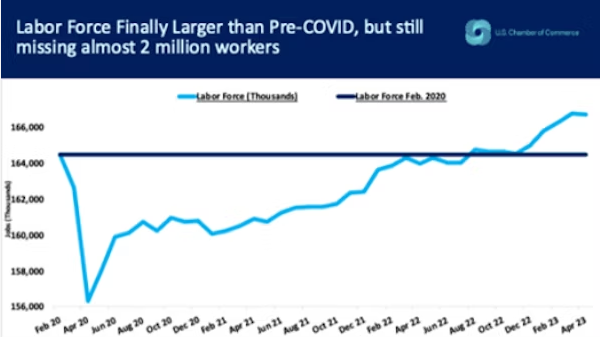 Learn More